-Project Dread 4- Galactic Federation Metroid Fangame
Project Dread is back, and this time the swarms are out of control! Fight off a never ending swarm of enemies in Project Dread 4's Survival Mode, or test your skills in all new campaign missions! Find out who's the best Hunter with the addition of a High Scores system, and massacre countless foes with new weapons, including the Prototype GF Rifle and Mobile Missile Launcher! An old threat returns and it's even deadlier than ever, it's up to the Federation to stop the new-found menace and prevent the ever-growing threat to galactic civilization!
Project Dread 4 is in development and will be coming soon… However, an Engine Demo is complete to show off some of the components of the game. Dread Engine v1 features 4 different enemies and all of the available weaponry.
Note: If you're curious, the death music was taken from Fallout 3 and is temporary.
Update: New Gameplay Video
Dread Gameplay Video
Download Link:
Dread Engine v2
Dread Engine v1
Plans for Build v3:
*Critical Hit System
*New GFAI Deaths depending on weapon used.
*Third music layer to play on certain situations.
*GFAI to drop health and ammo.
*Possible new GFAI type.
-Dread Engine v3 Trailer-
Update information (build v2):
Essentially the same as the previous post.
Bugs fixed, other additions:
*Weapons and Upgrades not being reset upon death.
*GFAI troops now have a smaller line of sight. They shoot twice as fast to make up for it though.
*GF Trooper bleeds open getting shot, to show damage is being taken.
*Heartbeat sound added when health is 25 or below.
*Automatic weapon reloading added. Holding down "Fire" for automatic weapons will reload automatically when you run out of ammo.
*Automatic weapon switch added. When you run totally out of ammo for a weapon and press "Fire", it will equip the Stun Stick.
*Weapon scrolling mod implemented. Press "fire" to change weapon (when new weapon is in the icon) to switch. Used to be right Mouse. Key now free for possible secondary firing modes.
*Fixed puffer glitch where damage wouldn't be dealt unless you were standing still.
*Double Jump modified, easier to pull off.
*Slightly changed bullet rotation for Jackhammer shots.
*Added new main menu buttons.
*Changed location of the Missile Launcher so you can use it from the start of the game.
*Stun Stick dash now penetrates through multiple fly enemies.
Modified GF Rifle (minigun) has lower wait-time when preparing to fire. Overheats faster.
Screenshots: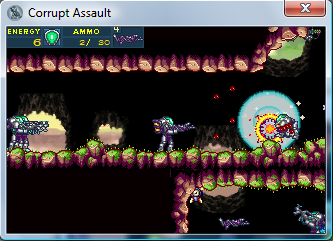 Please post your comments and questions about the Dread Engine here, criticism is always welcome.