Ok. Well. I'm making a new thread for this.
I had an old one but I'm too lazy to search for it.
This is Samus. Metroid 2 Samus.
Color her. She wants you to!!!
Post the colored lineart in this thread.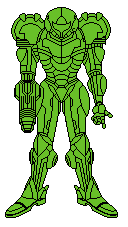 Here is an example:

And for those who want to use restrictions:
Commodore 64 palette and wide pixels.